Khuffenergy, one of the leading supply service companies representing international business organizations delivers top quality equipment and professional services to its oil and gas industry clients in Kuwait, Saudi Arabia, and Iraq.
Khuffenergy  Marketing Division represents and provides sales and marketing services for international companies. The selection of companies to represent is based on the Principal's reputation, high standard and quality of products and services. Our expertise and knowledge of the local market and customer needs also plays a major role in selecting the best principal.
Our division has a highly qualified professional sales team who are always available to promote and market the products of our Principals and to give all the necessary support expected from the Principals to the clients. Our warehouse is an added value to our Principals & clients. We always strive to serve our Principal's and merge with them for an alliance beyond just agencies and that is through Joint Ventures.
---
The Meaning of Khuff is the name of (rock) formation containing huge amount of gas and hydrocarbon accumulation. It belongs to the Upper Permian-Lower Triassic formation in the geological Stratigraphy column, covering a geological period between 225 and 280 million years ago.Khuff formation was explored and found in many countries across the Arabian Gulf. Production testing has proved that the Khuff reservoir zones are of variable significance from well to well and from field to field. It is estimated that the amount of hydrocarbon reserves in this formation is tremendous. Hence, Khuff could be one of the major energy sources in the future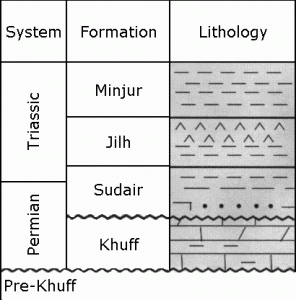 ---
Gallery - Kuwait Oil History